Parking
At The Round we want your visit to be as enjoyable as possible, from the moment you arrive until the final encore. That's why we have taken special care to provide ample parking options to cater to your needs.
Parking Tips
To enhance your parking experience, we recommend considering the following tips:
Follow our suggested parking route: below you will find maps of our various car parks and the suggested flow through them when trying to find a park at various times of the day or night.
Abide relevant signage: whilst most parking spaces at The Round are free and accessible 24/7, some spaces within the precinct do follow specific hours and restrictions. Please ensure you follow relevant road signs. Fines may apply.  
Arrive Early: To secure the best parking spaces, we suggest arriving well in advance of the performance start time. This allows you to relax, enjoy our luxurious foyer and The Round Bar before the show begins.
Carpooling: Consider carpooling with friends or family also attending. To make parking more convenient and environmentally friendly. Carpooling is a great way to share the experience and reduce traffic congestion.
Plan Ahead: Check traffic routes and ensure there are no disruptions to your journey. 
At The Round, we want you to focus on the magic happening on our stages, not on finding a parking space. We have made every effort to ensure that parking is the least of your worries when you visit The Round.
Free On-Site Parking
The Round offers convenient and free on-site parking facilities, ensuring easy access for all our guests. Our spacious car parks are just a short stroll away from our main entrance, making it a breeze to arrive at your favourite performances.
Evening and Weekend Parking Map: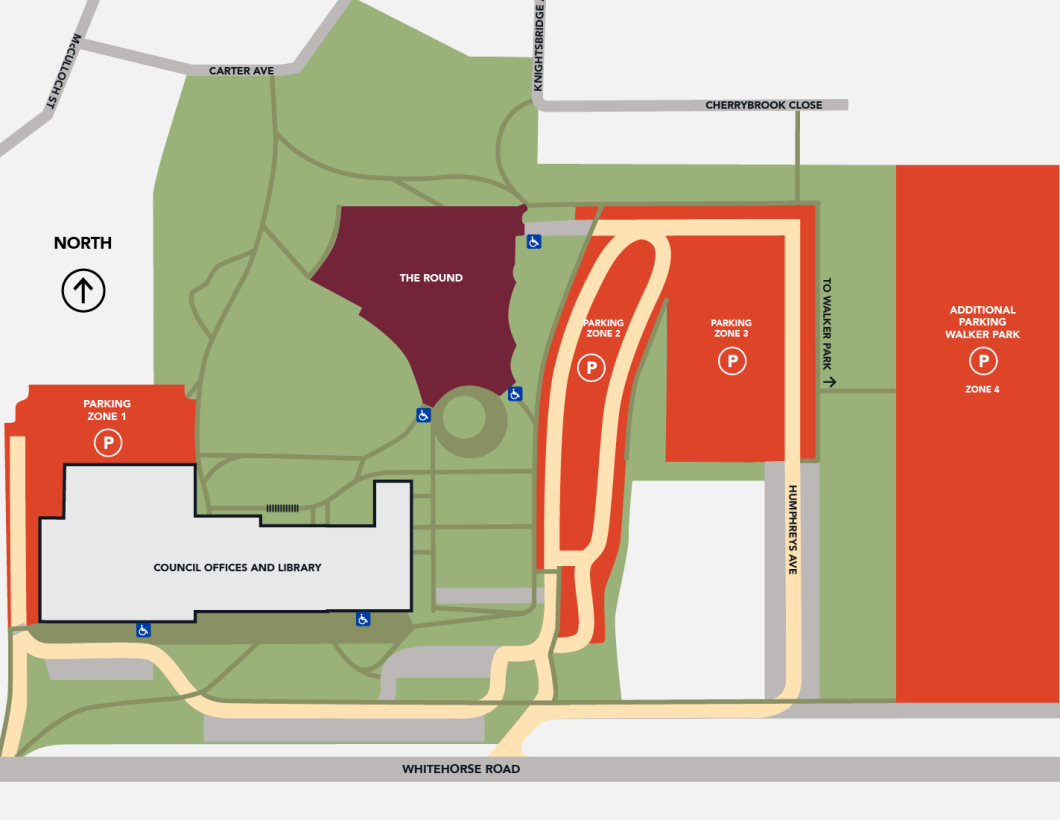 Midweek Daytime Parking Map: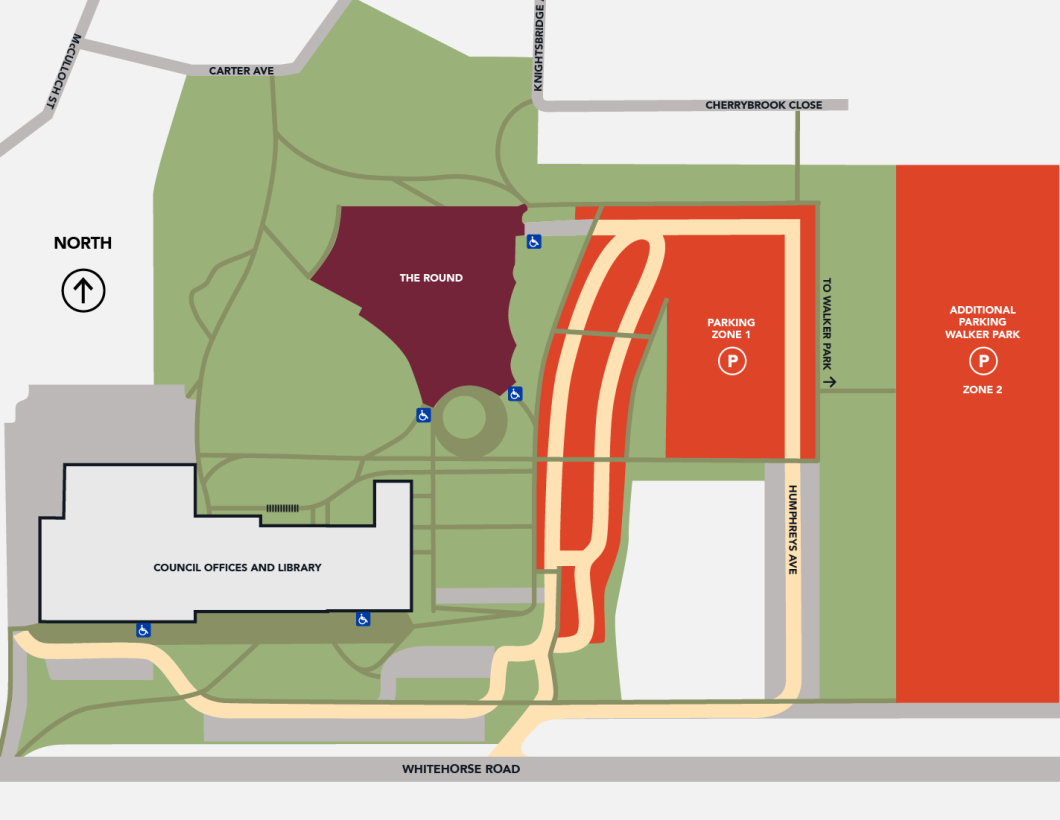 Accessible Parking Spaces
We strive to create an inclusive environment for all our visitors. As such, we have designated accessible parking spaces available near the entrance, ensuring convenient access for individuals with disabilities. Please display a valid accessible parking permit to utilise these designated spots. Please note that if designated accessible parking spaces have been taken by other patrons that all connecting pathways between The Round and our car parks have been designed with accessibility in mind.
Additional Parking Options
In the event that our on-site parking reaches capacity during peak periods, we have collaborated with nearby Walker Park to provide alternative options connected by well maintained and well-lit accessible walkways. Rest assured, you'll always find a suitable place to park near The Round, ensuring your evening of entertainment begins without any hassle.
Public Transport
For those who prefer public transport, The Round is well-connected with various bus stops and train stations in close proximity. This offers you the flexibility to leave your vehicle at home and enjoy a hassle-free journey to our venue. Check Public Transport Victoria's website for the latest schedules and routes.